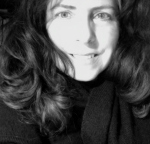 Linda Westphal writes feel-good stories, like THE HERMIT BOOKSTORE and THE MEDIUM.
Her stories include characters who explore life events that cannot be explained but are true based on firsthand experience, such as coincidence, help from people who have passed on, interactions with angels, intuition, and mind-body-spirit topics.
Linda grew up in central Wisconsin, where at an early age she remembers understanding two distinct facts about books: they are magical—the way they transport you to another place, and they are the world's best teacher.
During her youth she enjoyed reading, but never thought of herself as a writer. Her interests were in business and entrepreneurship, which were the fields she studied at the University of Wisconsin-Marathon County and UW-Stevens Point. Less than a week after graduation from UW-SP, she drove more than 2,000 miles across the U.S. to a new home in Sacramento, California.
In Sacramento, she started a small marketing and design firm and worked as an advertising and marketing professional for a few years until she built a highly successful business as a freelance advertising copywriter. During these years Linda wrote a monthly column for an international marketing magazine, as well as other distinguished marketing publications and textbooks.
In 2003, Linda's writing interests shifted from nonfiction to fiction. She studied the art of writing fiction and read hundreds of stories and novels. Today, Linda is the author of THE MEDIUM and THE HERMIT BOOKSTORE.
She lives in Sacramento with her family and enjoys travel, tea, food, sunny days, friendly people, and a good story.