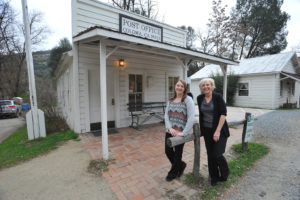 Since I am not a native of Northern California, my favorite thing to do on weekends is explore the area's many small towns (I had no idea there were so many). It's a happy surprise when you discover a new one, because when most people think of Northern California they think of San Francisco, Lake Tahoe, perhaps Silicon Valley or the Pacific Ocean, not well-preserved historic communities.
Not only do I enjoy exploring small towns, I also like to read stories that take place in small towns; and, the contemporary fiction stories that I write take place in small towns (where the town is one of the book's characters).
So when I needed a place to set my story, THE HERMIT BOOKSTORE, I instantly thought of Lotus (population 295), a community that dates back to California's gold rush days (165 years ago). Lotus has one main road, Lotus Road, a few old farmhouses, a friendly vibe, and lots of residual spirit energy left over from the California Gold Rush.
THE HERMIT BOOKSTORE is a modern day story that evolves over the span of a week in April 2014. The story is about a mysterious bookstore that suddenly appears on Lotus Road where an old farmhouse used to be. There's a quirky bookstore owner, Jolene, who meets three people who live in Lotus. These three characters need to fix a piece of their life but can't seem to do it without a little push. Jolene happens to know what they need and how to push them in the right direction.
If you also enjoy small towns and would like to read about California's oldest continuously functioning post office that you can still visit today in Coloma (around the corner from Lotus), go to "Coloma post office still delivering mail after 165 years."