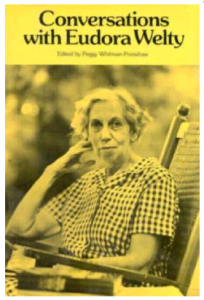 If you like Southern fiction, you may have read the book Conversations with Eudora Welty (I highly recommend it).
In an interview with Alice Walker (Summer of 1973), this was Welty's reply when Walker asked if she thought all short stories were potential novels:
"No, they are two different things. I think that one of my faults as a novelist is that I don't think as a novelist does. I think the short story is a sustained thing, all in one piece, and compact. You don't have any of the expansion and scope that the novel can have. So any time I've made the mistake of writing a short story that became a novel I've had to go back and start at the beginning again. It's like starting for the long jump or the short hop. You don't have the same impulse."
Based on my own experience, Welty is right as rain. When I wrote THE MEDIUM, a short story, and THE HERMIT BOOKSTORE, a novella, my mind's eye naturally saw a tidy story, not a lingering show. Then this year, when I started to write my first novel, my mind's eye saw something different — an expanded drama where the characters and story elements slowly unfold.
I enjoy reading all types of story lengths, but I especially admire writers who can pack a big story into a small space. Here are a few examples of wonderful stories packed into about 100 pages. Do you have any favorites?
A Christmas Carol by Charles Dickens
Animal Farm by George Orwell
Of Mice and Men by John Steinbeck
The Call of the Wild by Jack London
The Old Man and the Sea by Ernest Hemingway
The Yellow Wallpaper by Charlotte Perkins Gilman
The Turn of the Screw by Henry James
The Importance of Being Earnest by Oscar Wilde